Explore checking account options that save you time, money and worry.
No matter where you are in life, we have accounts that keep you moving forward.
To open any Gulf Winds Personal Checking Account you must first open a Primary Share Savings Account with a $5 deposit.
Who Can Join?
Membership is open to anyone who lives, works, worships or attends school in one of the 75 counties we serve.
Businesses and other legal entities located in these counties and anyone who is an immediate family member of a current member is also eligible for membership.
Florida
Alachua, Baker, Bay, Bradford, Calhoun, Clay, Columbia, Dixie, Duval, Escambia, Flagler, Franklin, Gadsden, Gilchrist, Gulf, Hamilton, Holmes, Jackson, Jefferson, Lafayette, Leon, Levy, Liberty, Madison, Marion, Nassau, Okaloosa, Putnam, Santa Rosa, Saint Johns, Suwannee, Taylor, Union, Wakulla, Walton, and Washington Counties
Alabama
Baldwin, Butler, Clarke, Coffee, Conecuh, Covington, Crenshaw, Dale, Escambia, Geneva, Henry, Houston, Mobile, Monroe, Washington, and Wilcox Counties
Georgia
Atkinson, Baker, Berrien, Brantley, Brooks, Camden, Charlton, Clinch, Colquitt, Cook, Decatur, Early, Echols, Glynn, Grady, Lanier, Lowndes, Miller, Mitchell, Pierce, Seminole, Thomas, and Ware Counties
It was an easy, fast, and friendly experience opening up a new account.
Andrew G.
Account Access
Digital Banking
Manage your account anytime, anywhere with our free Digital Banking tools.
Learn More »
Phone Banking
Our Phone Banking service is available 24 hours a day, 7 days a week. To use Phone Banking, all you need is a touch-tone phone, your account number and a 6-digit PIN number. If you need a PIN number, please call our Contact Center.
1.800.650.6328
ATMs
There are no fees for our members to use any ATM located at a Gulf Winds Branch or any ATM in the CO-OP or Allpoint Network. In fact, our members have access to more than 85,000 fee-free ATMs nationwide!3
Find an ATM near you »
Ways To Pay
Biller Direct
Make real-time payments or schedule future ones to participating merchants using your Gulf Winds credit or debit card.
CardSwap
Make managing your payment preferences simple. Update your payment methods with your favorite merchants, all in one place.
Digital Wallets
The simple, secure and fast way to pay.
Overdraft Protection
Whether it's a flat tire or an unexpected bill, our Overdraft Protection gives you peace of mind. By automatically transferring any necessary funds from a designated source to your checking account, our free service means you don't have to worry about fees or if you have enough money to cover a purchase. There is no charge, no transfer fee, and no non-sufficient funds (NSF) fee for use of this service when activated on your account.
Overdraft Privilege
Gulf Winds discretionary Overdraft Privilege is a financial resource that can cover an overdraft should you make a mistake with your account. Rather than returning a payment that normally would not clear your account because funds are not available to cover it, we cover the item. While there is a $29.50 fee per item, this resource may protect you from merchant returned check charges or other fees.
Only avaliable for Gulf Winds High-Yield and MyFree Checking Products. Subject to approval.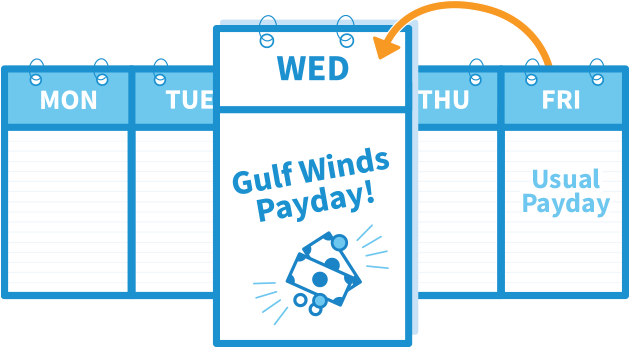 Move Your Payday Forward... By Two Days!
It's your money, why wait for it? With direct deposit, you could get your paycheck up to two days early.1
Learn More
Text Message Fraud Alerts
Members that use Gulf Winds Visa Debit Cards may receive text messages from us if we need to confirm account activity. How does it work?
Step 1 - Our fraud monitoring system will keep an eye on your transaction activity. If it sees something unusual, you'll get a text notification.
Step 2 - If the transaction is legitimate, simply reply YES to the text message to unlock your card. If you did not make the transaction, reply NO. If the transaction is confirmed as fraud with a "NO" text reply, the card will be blocked immediately and we will respond with the next step necessary.
You are automatically enrolled in this free service when getting a Gulf Winds Debit Card, however, you can opt-out at any time. If a transaction has been posted to your account that you did not authorize, easily report it in digital banking, in a branch or over the phone. Our digital system makes the claim-filing process simple.
Release of Liability: Alerts sent via the SMS may not be delivered to you if your phone is out of range or if sufficient network capacity is not available at a particular time. Gulf Winds Credit Union cannot guarantee and is not responsible for the availability of data services provided by your mobile carrier.
Join Gulf Winds. Because your journey matters.
From car loans and college savings to retirement planning and digital banking tools, Gulf Winds has everything you need to keep life moving forward.
Planning to switch primary accounts to Gulf Winds? Download our free Switch Kit for step-by-step instructions.
Financial Learning Center
Checking Accounts
Learn about the features, benefits and functions of checking accounts.
Account opening subject to approval.
1ATM fee refunds up to $15 per cycle when qualifications are met. Only applicable with HY Checking Share accounts, not Primary Share or Primary Savings accounts.
2Subject to account qualification after 30 days. A fee will be incurred for use of this service.
3For machines outside of the Gulf Winds network of ATMs the deposit fee is $1.00 and the inquiry fee is $0.25.