How Can We Help?
Serving 75 counties in Florida, Alabama and Georgia.
Personal Checking Options
Pursue your dreams. Manage the day-to-day.
No monthly service fees, no minimum balance
Bank anywhere, anytime with free digital banking tools
85,000+ nationwide Fee-Free ATMs
Open an account in minutes with just $5.
Caring for the Community
We're here to help people—not only our members but our communities too. Through sponsorships, donations, and volunteer hours, we are a positive force in the region.
Our Gulf Winds Cares Foundation provides dependable support for organizations serving youth, seniors, basic needs, and financial education.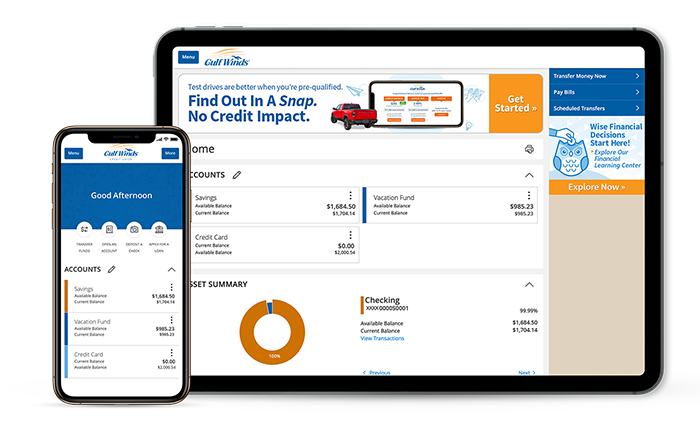 Manage Your Account Anytime, Anywhere
Check your balance, transfer money, pay bills, deposit checks and more with our secure Digital Banking. Learn More
The Gulf Winds Difference
We're in your corner. When you thrive, we thrive. Our innovative financial tools give you the freedom to live your life, with your finances under control.
Save. Spend. Live.
Insights and expertise to help you navigate your financial journey.
Florida's "Freedom Week" brings tax breaks July 1-7 to help families have more affordable fun this summer. Learn More
The program was established in 1978 with the philosophy that legal representation should be affordable for everyone. Read More
The major credit bureaus are making changes to how medical debt impacts your credit score. Read More
Ready to join Gulf Winds?
Whether it's a car loan, home ownership, saving for college, planning your retirement or digital banking that moves at the speed of life—we've got you covered.