Manage Your Accounts at the Speed of Life
Anytime, Anywhere, Any Device
Mobile Check Deposit
Deposit checks with a tap and snap, no branch or ATM required!
It's Simple and Secure
Open the Gulf Winds Digital Banking app on your smartphone or tablet.
Endorse your check with your signature and "Mobile Deposit Only Gulf Winds."
Snap a couple pictures and you're done!
Pay Your Bills With Ease
Whether you need to manage and pay your monthly bills, send a one-time payment, or pay back a friend for lunch, you can do it all with Gulf Winds Digital Banking.
CardSwap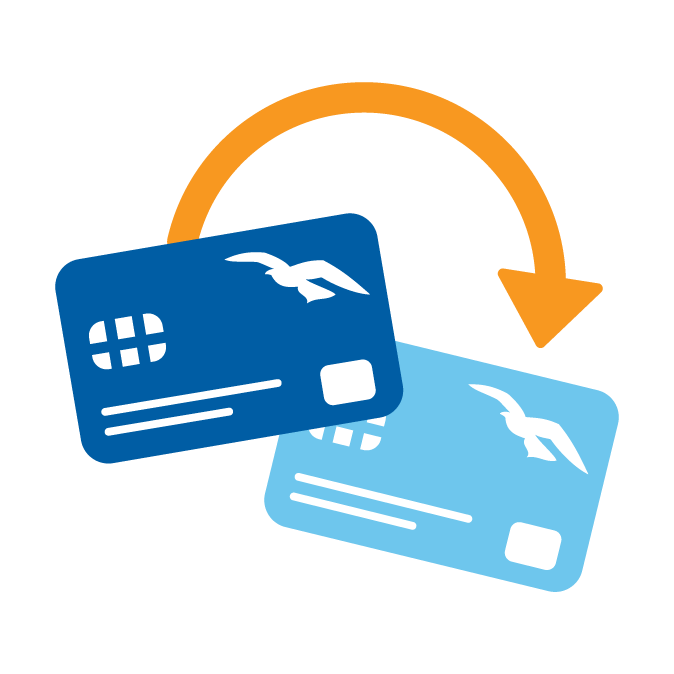 Make managing your payment preferences simple. Update your payment methods with your favorite merchants, all in one place.
Payigy
Reduce the hassle of managing loan payments. Pay your Gulf Winds loan from another financial institution through a secure online account.
The representative was very friendly and walked me step by step through the process of signing up for digital banking and answering my questions.
Cynthia R.
Frequently Asked Questions
You can enroll in our digital banking tools here or you can click or tap "Enroll" on the app. The registration takes only a few seconds but you'll need to be ready with a unique login name of your choice, your SSN, DOB and Zip Code. Once complete, you will be able to view and manage your Gulf Winds accounts on any device.
Our Digital Banking platform utilizes a Secure Access Code (SAC) security feature. This SAC allows us to identify you by sending a 6-digit code to your designated point of contant.
Secure Access Codes are sent to your designated point of contact when logging into Digital Banking for the first time or from a computer/mobile device you have not previously registered. When prompted, select the method in which you'd like to receive the SAC. Codes are only valid for 15 minutes, so please ensure you can access and enter it into the platform quickly.
Username
To recover your username, you'll need to visit a branch or call the contact center. You will be required to answer security questions or present a photo ID. Our staff will be able to communicate your username once your identity is verified.
Find a branch or call us.
Password
To reset your password, select the "Forgot Password" link on the login page. You will be prompted to confirm your identity and, once this is completed, you can create a new password.
The routing number for Gulf Winds Credit Union acconts is 263281679.
To find your account number within Digital Banking, click on the account title and then select "Details". You will find your full MICR Account Number and the Gulf Winds routing number listed.
Before you can view balances on your Apple Watch, you must first enable the feature in your iOS app. Log into you iOS app and access Apple Watch from the Main Menu, under Settings, to enable the feature.
Once enabled, you can view your first ten (10) account balances by swiping left and right on your watch. If you have more than 10 accounts, you can re-order the display from the account summary page on your iOS app or desktop.
You can also view the ten (10) most recent cleared transactions for each account from your Apple Watch. To view transactions, tap on the watch screen and swipe up or down to scroll through the list. Pending transactions will not show up on your Apple Watch.
Ready to join Gulf Winds?
Whether it's a car loan, home ownership, saving for college, planning your retirement or digital banking that moves at the speed of life—we've got you covered.