Moving Your Journey Forward
Whether you're dreaming of a new home for your growing family or planning an exciting road trip to a new destination, we're here to keep you moving forward.
Join now and open an account with just $5!
No matter where life's adventures take you, we've got you covered with low fees, better rates and on-the-go digital banking tools.
Who Can Join?
Membership is open to anyone who lives, works, worships or attends school in one of the 75 counties we serve.
Businesses and other legal entities located in these counties and anyone who is an immediate family member of a current member is also eligible for membership.
Florida
Alachua, Baker, Bay, Bradford, Calhoun, Clay, Columbia, Dixie, Duval, Escambia, Flagler, Franklin, Gadsden, Gilchrist, Gulf, Hamilton, Holmes, Jackson, Jefferson, Lafayette, Leon, Levy, Liberty, Madison, Marion, Nassau, Okaloosa, Putnam, Santa Rosa, Saint Johns, Suwannee, Taylor, Union, Wakulla, Walton, and Washington Counties
Alabama
Baldwin, Butler, Clarke, Coffee, Conecuh, Covington, Crenshaw, Dale, Escambia, Geneva, Henry, Houston, Mobile, Monroe, Washington, and Wilcox Counties
Georgia
Atkinson, Baker, Berrien, Brantley, Brooks, Camden, Charlton, Clinch, Colquitt, Cook, Decatur, Early, Echols, Glynn, Grady, Lanier, Lowndes, Miller, Mitchell, Pierce, Seminole, Thomas, and Ware Counties
Explore Our Products and Services
FREE checking options, higher savings rates and low interest rates.
Personal Checking
Options with no monthly service fees, no minimum balance
Bank anywhere, anytime with free Digital Banking
85,000+ nationwide Fee-Free ATMs
Savings & Investing
Saving that feels easy.
Save up for that once-in-a-lifetime vacation or stay on track for upcoming big expenses.
Your future self will thank you.
Build wealth and plan for your financial future with guidance from our Raymond James Wealth Advisors.
Loans & Credit Cards
Auto Loans »
Low rates and flexible terms on new, used or refinanced loans.
Mortgages »
We offer a full line of mortgages including Conventional, USDA, VA, Condo, and even Land and Lot Loans.
Credit Cards »
VISA Platinum, VISA Platinum Rewards, VISA Secured
Personal Loans »
Low rates mean you can afford the things you need now.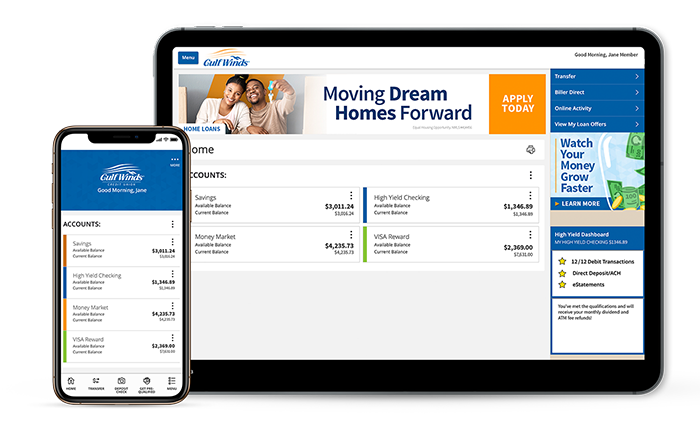 Manage Your Account Anytime, Anywhere
Check your balance, transfer money, pay bills, deposit checks and more with our secure Digital Banking. Learn More
Bank vs. Credit Union. Why Join Gulf Winds?
We work to help our members. Banks make profits for shareholders.
Our earnings directly benefit you in the form of higher savings rates, better loan rates and lower fees. As a not-for-profit credit union, every member owns an equal "share" in Gulf Winds, regardless of how much money is in your account.
Ready to make the switch? Do it in four easy steps.
Never once in all my years of doing business with Gulf Winds have I felt like a customer. From the very first day, they made me feel like family and that is priceless. I'm guessing that I recommend Gulf Winds at least once a day.
Michael H.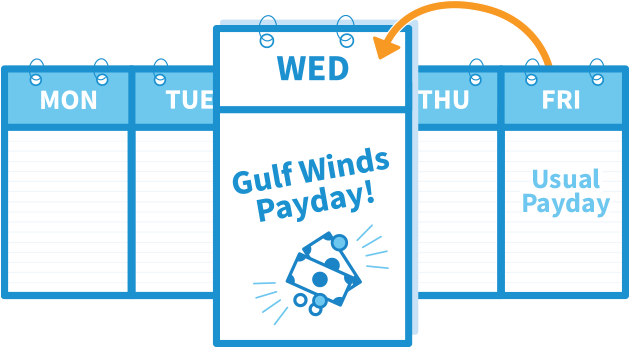 Move Your Payday Forward... By Two Days!
It's your money, why wait for it? With direct deposit, you could get your paycheck up to two days early.1
Learn More
Ready to Open an Account?
Higher savings rates, better loan rates and lower fees. We believe banking should move you forward. Your future self will thank you.
1 Early access to direct deposit funds depends on the timing of the submission of the payment file from the payer. We generally make these funds available on the day the payment file is received, which may be up to 2 days earlier than the scheduled payment date.