The Smart Way To Receive Your Pay
Spend less time managing and more time growing your money. Setting up direct deposit puts your paycheck, retirement check or other recurring income straight to your accounts electronically—on time, every time.

Plus, with direct deposit at Gulf Winds, you'll be able to do more with your money.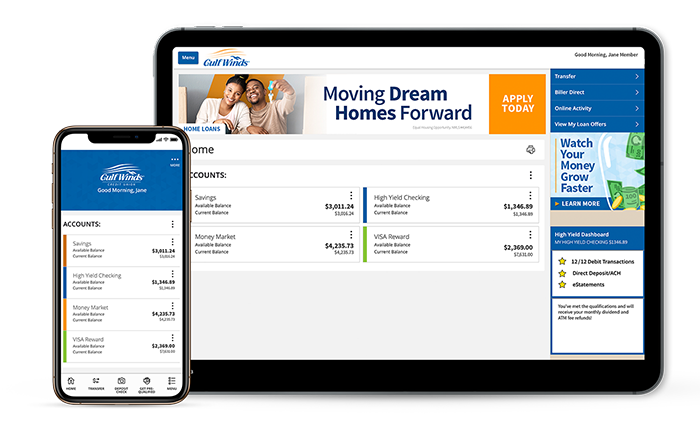 Manage Your Account Anytime, Anywhere
Check your balance, transfer money, pay bills, deposit checks and more with our secure Digital Banking. Learn More
Setting Up Direct Deposit
Getting started with direct deposit is an easy and secure process.
Step Two
Navigate to the "Forms — Deposits & Withdrawls" tab, then select the "Direct Deposit" button.
Step Three
In the pop-up box, enter the name of your employer or designated depositor. Double check for accurate spelling.
Step Four
Finish by selecting "Save and Print." Present the completed form to your employer for processing.
Social Security and Other Federal Benefits
The Treasury Department requires all federal benefit payments to be made electronically. If you still receive a paper check for your Social Security or other federal benefit payments, you are out of compliance with the law.
We've provided resources below to make setting up direct deposit for your federal benefits easy.
Social Security Benefits
Visit www.ssa.gov to get started with direct deposit for Social Security Benefits. Use your Gulf Winds account information.
Other Federal Benefits
Visit www.godirect.gov to get started with direct deposit for other federal agencies such as:
Department of Labor
Department of Veterans Affairs
Office of Personnel Management/Civil Service
Retirement Board
Defense Finance and Accounting Service
Questions?
Our team is always here to help move you forward.
Click here to learn more about direct deposit or contact us today.
1 Early access to direct deposit funds depends on the timing of the submission of the payment file from the payer. We generally make these funds available on the day the payment file is received, which may be up to 2 days earlier than the scheduled payment date.
2 In addition to direct deposit, account holders must also have at least 12 debit card purchases and receive monthly statements electronically each month to qualify for 2.0% APY. Qualifying transactions must post and clear the account during the monthly qualification cycle. Transactions may take one or more business days from the transaction date to post to an account from the date the transaction is made. Intra-bank transfers do not count as qualifying ACH transactions. Refer to High-Yield Checking qualifications for more information.