Ways To Bank at Gulf Winds
We believe that everyone should have the freedom to bank the way they want. That's why we offer a variety of banking options to fit your needs. Whether you prefer to bank online, in the app, or in person at a branch, we have you covered.
In Branch
Find a branch for personalized face-to-face service.
On the Phone
Talk to a real person. Call our contact center at 1.800.650.6328.
Check Reconciliation
Need help balancing your checkbook? Download our printable check reconcilement form here.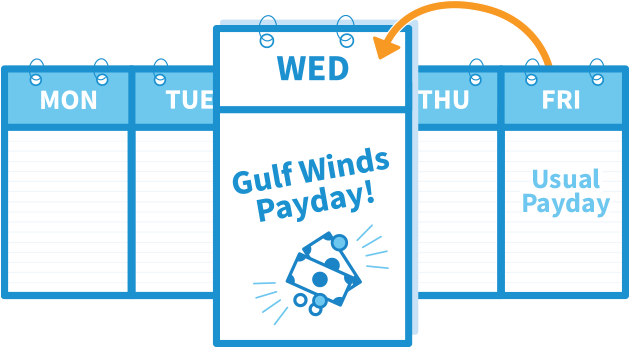 Move Your Payday Forward... By Two Days!
It's your money, why wait for it? With direct deposit, you could get your paycheck up to two days early.1
Learn More
Take Advantage of Your Rewards
With a VISA Platinum Rewards Credit Card, you earn one point for every dollar of every purchase, every day. Redeem for gift cards, airline tickets, cruises, hotels, merchandise, and more!
Check Reward Balance
Log into Digital Banking and select "Get My Rewards" to view available point balance.
Redeem Reward Points
Log into Digital Banking, select "Get My Rewards," then select the benefit you wish to redeem with your available point balance.
Don't have a credit card but want to start earning awesome perks?
Lost your Visa Debit or Credit Card?
Give us a call at 850.479.9601 or toll-free at 1.800.650.6328.
After Hours, Weekends and Holidays
Debit Cards: 1.800.472.3272
Credit Cards: 1.866.791.6842
Need to report Credit Card fraud or dispute charges?
Visa has a dedicated support line where you can file a claim or make a dispute. Just call 1.866.791.6842 and select option 4.
Have additional account management questions?
It's easy to access your account from anywhere with our Digital Banking tools. Check your balance and account activity, search for a specific transaction, pay bills, transfer funds, access your eStatements, and much more anytime from your computer, tablet or smartphone.
Username
To recover your Digital Banking username, you'll need to visit a branch or call the contact center. You will be required to answer security questions or present a photo ID. Our staff will be able to communicate your username once your identity is verified.
Find a branch or call us.
Password
To reset your Digital Banking password, select the "Forgot Password" link on the login page. You will be prompted to confirm your identity, and once this is completed, you can create a new password.
There are no fees for members who use their Gulf Winds cards in CO-OP or Allpoint Network ATMs. With over 90 free local ATMs, and more than 85,000 free nationwide ATMs, there is bound to be one close to you.
Our Phone Banking service is available 24 hours a day, 7 days a week. To use Phone Banking, all you need is a touch-tone phone, your account number and a 6-digit PIN number. If you need a PIN number, please call our Contact Center. It is an easy way to check your account balances, find out whether checks have cleared, transfer funds from one account to another, and much more.
To get started:
850.479.9601 (Local) or 1.800.650.6328 (Toll-free)
Gulf Winds offers several ways to order checks.
Ordering for the First Time
If you have not ever ordered checks from Gulf Winds, you may call toll-free at 1.800.650.6328 and place your order.
Re-ordering Checks
If you have ordered checks for your account previously, you can easily re-order through our Digital Banking platform at any time while logged in.
You can also drop off your check order form (found in your register) at any of our branches or mail the form to our Nine Mile branch.