Is Digital Banking Safe? That's a question that we get asked a lot. The answer is very simple, yet complex. In short, yes. Digital Banking is a safe way to manage your accounts with Gulf Winds. As a diligent consumer, though, you probably want to know why and how it's safe. This is a good thing! Current world events have likely heightened any worries that you already had about information security. This post is designed to help relieve some of that anxiety and give you peace of mind knowing that your information and your accounts are safe with Gulf Winds. I will also give you some tips on how you can help us maintain the safety of your accounts.
How Is Digital Banking Safe?
Gulf Winds takes information security very, very seriously. Part of that is ensuring that we leverage the most up-to-date technology to secure your accounts online. Here are some ways that Gulf Winds does just that.
1. Multi-Factor Authentication
Multi-Factor Authentication, or MFA, is an electronic authentication process that requires users (like you) to complete a step beyond just entering a username and password to access a platform (like Digital Banking). Gulf Winds requires that you enter a Secure Access Code sent to you by email, phone call or text message to login to Digital Banking from a non-registered device. This step prevents bad actors who may gain access to your username and password from logging into your account from their own devices. The code should never be shared with anyone else.
2. Advanced Firewalls
Firewalls are network security systems that monitor and control incoming and outgoing traffic. Our Digital Banking is protected by an Advanced Web Application Firewall that filters traffic, identifies suspicious activity, and helps prevent attackers from accessing the system.
3. Prescreening Logins
Hackers frequently use automated bots to try and gain access to vulnerable systems. Gulf Winds prescreens all logins to identify those bots and block their access to our Digital Banking system.
4. Internal Security
Gulf Winds is also committed to internal data security when it comes to our team. We train continuously on how to protect member data while still providing the best service possible. Our IT teams are always seeking out ways to increase the safety and security of member information and are continuously monitoring our systems to ensure their security.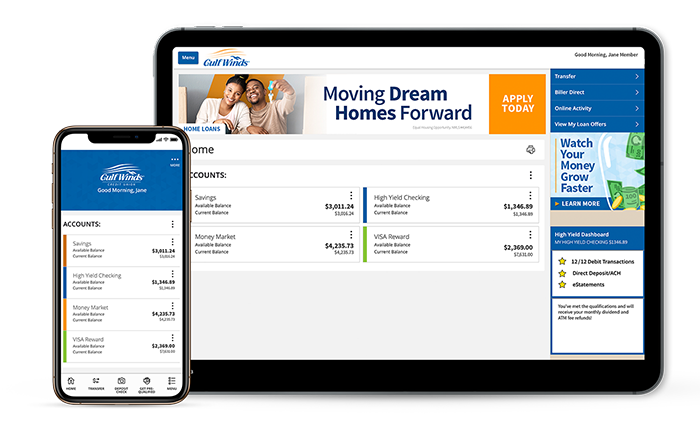 Manage Your Account Anytime, Anywhere
Check your balance, transfer money, pay bills, deposit checks and more with our secure Digital Banking. Learn More
How Can You Help?
Gulf Winds is constantly working to protect you, your information and your accounts from cyber threats. However, we can't do this job alone. Here are some things that you can do to help us keep you safe in the digital world…
Never give your Digital Banking Login ID, Password, or Secure Access Code to other people (even if you know them).
Make sure that your Password for Digital Banking is strong and not easily guessed by anyone.
Protect access to the devices you use to receive your Secure Access Codes for Digital Banking by employing virus protection and requiring a strong passcode or biometric scan to unlock your device.
Digital banking is safe because Gulf Winds is diligent in protecting your accounts and helping you protect yourself! Learn more about ways Gulf Winds protects your digital security at GoGulfWinds.com/Security.
---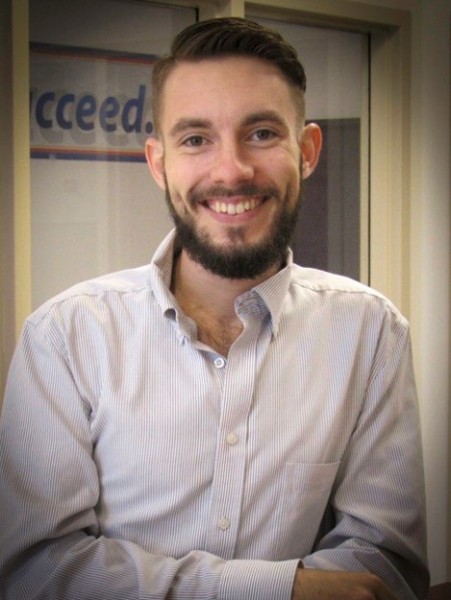 Waylon Jones
Waylon is a husband, a dog and cat dad, and a native of Pensacola, Florida. He currently works in Digital Innovation within the EServices Department at Gulf Winds. He has nearly a decade of experience in consumer and commercial banking, having served as a Quality Assurance Specialist, Branch Manager, and Contact Center Manager. Waylon is passionate about creating exceptional digital experiences for members. In his spare time, he enjoys traveling and kayaking.