Are you tired of the same old furniture that you've had for years and years, but you don't have the means to go out and purchase the new and expensive living room furniture that you saw on a commercial last week? Try refurbishing! A great way to keep your home looking fresh on a budget is to purchase an older item from a thrift store, yard sale, or even find something you already had around the house and find ways to spruce it up. Here are four different things you can do to easily refurbish a piece of furniture: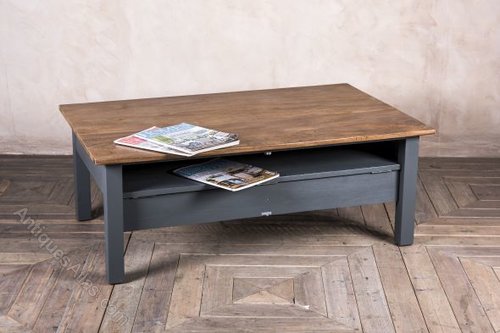 Here is an example of a coffee table that has been both stained and painted to bring a new life to this older piece of furniture. antiques-atlas.com
Paint & Stain
Sand down and re-paint a coffee table made of wood— go for neutral colors such as gray, white, tan, or black so that it will easily go with the rest of the room. If you want the original wood furniture look, try oiling and staining it to keep the wood healthy and the color fresh. Some of the best types of paint to use to refurbish an old piece of furniture are oil paint, acrylic paint, latex paint, and chalky paint. Or try a mixture of both like this refurbished coffee table.
Reupholster and Paint
Upholster a chair to give your home a pop of color— find an older chair, some fabric that is your favorite color, and some paint for the legs and trim of the chair. This type of refurbishment is great for the home that is mainly neutral but needs a pop of color to liven the room. Here is a link to a video where you can see the step-by-step process of refurbishing a chair.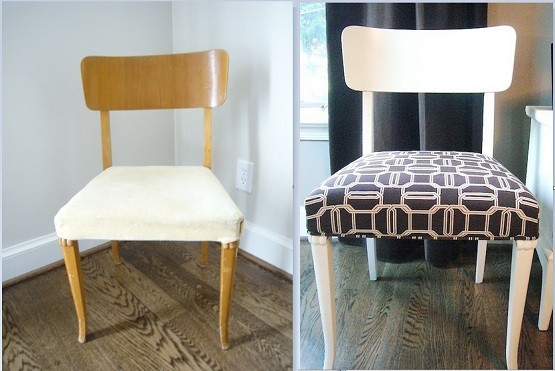 Here is a cute before and after photo that shows how you can turn an old dining room chair into a new and fresh accent chair. homeposh.com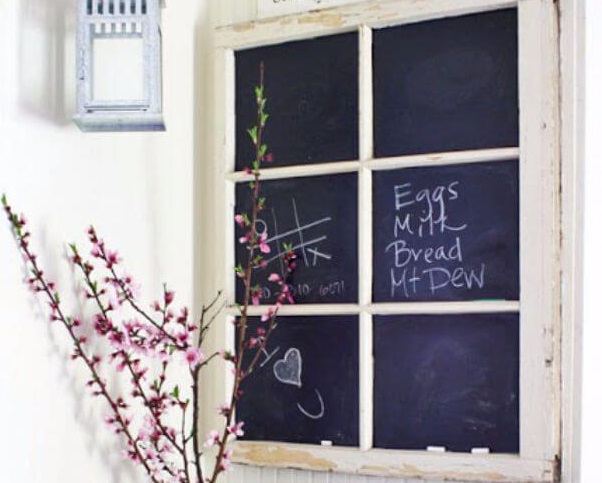 Here is an old window frame that has been turned into a farmhouse-style board that is a great place to hang photos, hold décor, and leave notes for the family. theshabbycreekcottage.com
Make a Frame for Décor
Paint old window frames to create a wall decoration — this is a beautiful refurbishment that is super simple. All you need is an old window frame without the glass and some white paint! This is a great piece to hang in your kitchen for that farmhouse, country kitchen feel.
Create Storage
Need more storage? Take an older buffet table or dresser and turn it into a new storage bin. Find an old, short dresser or buffet table and take out all the drawers. Paint the piece of furniture and then add baskets in the bigger areas to store games, movies, or electronics. You can place the smaller drawers back into the furniture after they have been painted and given new handles for a more complete look.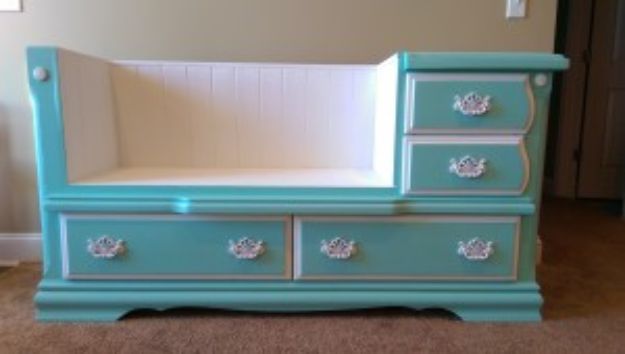 Here is an old dresser that has been turned into an entertainment center with plenty of storage. 15 Awesome DIY Dresser Ideas That Will Refresh Your Bedroom.
You don't have to go broke if you need new furniture. Gulf Winds credit cards are a great way to help pay for your new furniture. Our credit card loan rates are as low as 6.90% APR. This fun project gives you a great opportunity to refurbish your home, save money, and boost your credit score all in one! You can learn more about applying for a credit card here.