An outdoor patio is a staple to owning a home. With the summer months quickly approaching, now is a better time than ever to build or rebuild a new patio. Although doing so can be costly, it doesn't necessarily have to be. Here are a few ways you can build the patio of your dreams without hurting your wallet.
Build on level turf
Although this may seem obvious, choosing a level area to build your patio is the first step to saving money in the long run. If you build in an unlevel area, you will likely need to purchase lay soil and retention walls to make the area flat. Before constructing, survey your yard for the most level spot available to you. You can also build onto an existing patio that is already flat. If you must build in an unlevel area, be sure to purchase inexpensive stabilizing soil or reuse excess soil available in your yard.
Reuse materials
One of the easiest ways to save money on your patio is to reuse materials already on hand. If you have built a patio in the past, consider reusing existing pavers. If you haven't, be sure to go through your shed or garage to see what kind of salvaged materials you can use to build. You can also take advantage of the flora already available in your yard. Building around plants or trees and using them as focal points is a great way to save money on excavation and disposal. Plus, it will make for a patio that is natural looking and shaded!
Purchase materials out of season
Planning and purchasing materials when demand is low is a cost-effective way to save money when building a patio. Most people associate patios with the spring and summer months, so as a result, patio materials are generally more expensive during these months. Purchasing pavers, lay, furniture, and other patio necessities should be done in the winter months, as demand and prices for these materials will be down. If you are looking to outsource a landscaping company, utilize their services in the winter, for some companies drop their prices when demand is low. In the Southeast, building a patio during the winter months is also a smart idea because you do not have to deal with the humidity or pesky mosquitoes. It's a win-win!
Build in stages
Building your patio in stages can help alleviate overall construction costs. As previously stated, it is advantageous to purchase your patio materials when they are out of season. Depending on what you're looking for and where you live, the off-season can vary among materials, so it is best to break up your purchases. Building in stages can help you to stay within your budget while allowing for a more gradual expansion of your patio. It can also harness better planning, as you never know what unexpected challenges building a patio will present.
Buy second hand
Patio material can be expensive. That said, there is nothing wrong with purchasing your materials second hand. While lay soil and mulch can be difficult to find second hand, utilizing reclaimed materials such as brick or wood is always a feasible option. Buying patio furniture from a thrift store or garage sale is another easy way to save money. If you find used patio furniture that isn't up to par or is not your fancy, consider refurbishing it. In many instances, refurbishing used patio furniture is cheaper than buying new furniture from a department store. It will also make your furniture look one of a kind!
In the summertime, an outdoor patio can make the difference between a house and a home. Think of all the barbeques, parties, and memories you'll make with friends and family on your new patio. While building one can seem out of budget, it may be more affordable than you think.
Looking to build an outdoor patio? Gulf Winds can help you out. Click here to learn about our Anything+ Personal Loans.
---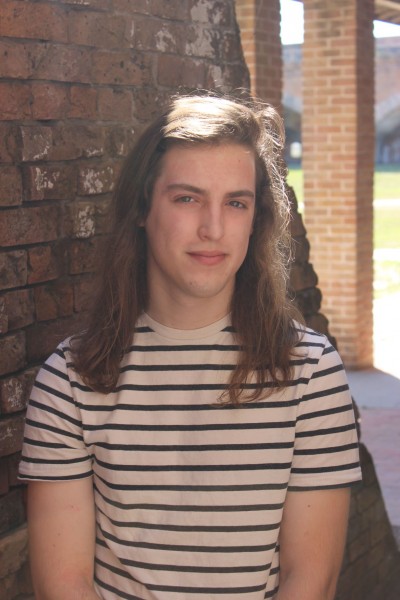 Hunter Morrison
Hunter has freelanced for various print publications across Northwest Florida, including The Bay Beacon, Navarre Press, Inweekly, and Crestview News Bulletin. He was also the Editor in Chief of the University of West Florida's student newspaper, The Voyager. In 2022, he was named Best Radio News Reporter by the Southeastern Journalism Conference. Hunter earned his B.A. in Communication Arts/Journalism from the University of West Florida. For fun, Hunter enjoys traveling, visiting museums, photography, thrifting, spending time in the great outdoors, and looking for the best Thai food around.