It can be hard and expensive to take off work for a full week to go on vacation. Just because you can't take a full-fledge vacation doesn't mean you can't get away, even if just for a day to explore a place that is within a few hours' drive. This is a great way to feel like you're on a short vacation and will keep the kiddos from getting too bored over the summer. Here are 5 different nearby places that Gulf Winds could easily travel to for a quick and inexpensive little day trip during the summertime.
1. Destin
Destin is great for a beach day get-away. If you want to avoid some of the crowds, but still enjoy the beach, try chilling out at Henderson Beach State Park, which is typically less crowded than the beaches near the condos. There are also plenty of other things to do in Destin besides just sitting at the beach. With three awesome shopping locations, such as Destin Commons, The Silver Sands Premium Outlets and the Grand Boulevard, you will be able to shop until your heart is content. You can also stop by the Gulfarium , which is in Fort Walton and only a 10- minute drive from the west side of Destin. Another fun activity for families with kids is to splash around at Big Kahuna's Water Park. Then you can end the day with a dolphin cruise or strolling along the Destin Harbor Boardwalk, which has plenty of good food, tasty treats, and live music.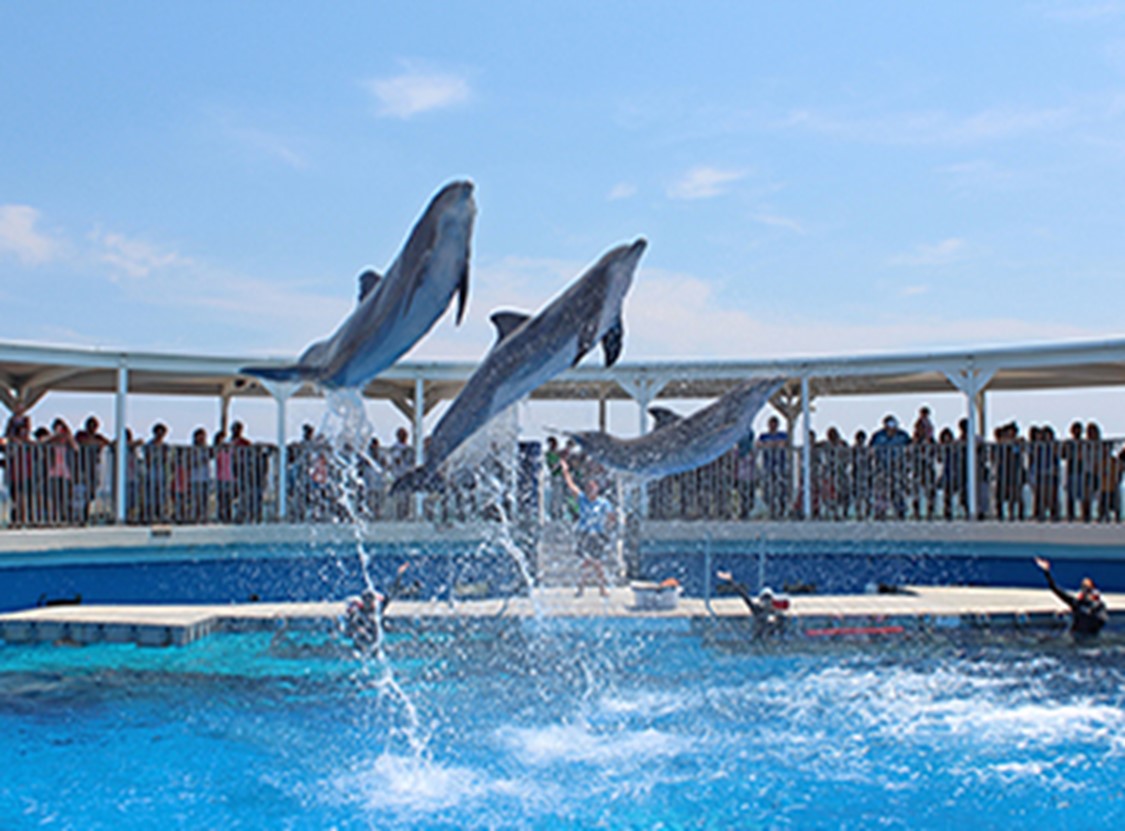 Here is a photo of one of the unique dolphin shows that you can watch with your family at the Gulfarium!
2. Spanish Fort/Daphne/Fairhope
This area would be a great trip for families in Pensacola who only have half of a day to go out and adventure. Start your time in the Spanish Fort shopping center, where you will find several different department stores and boutique shops. Then you can travel over to the Daphne area for a fun time at Bass Pro Shop which has every outdoor accessory you can imagine, a massive fish tank and hunting games upstairs. In the summertime, Bass Pro hosts kids' events where your children can learn about hunting, fishing, and more. You can then head to the quaint town of Fairhope for boutique shopping and a nice dinner. For dessert, the Yard Milkshake Bar is a fun experience for all, where you can share extremely large and extravagant milkshakes. Finish off your evening by walking along the Alabama Eastern Shore Trail and watching the sunset by the Mobile Bay.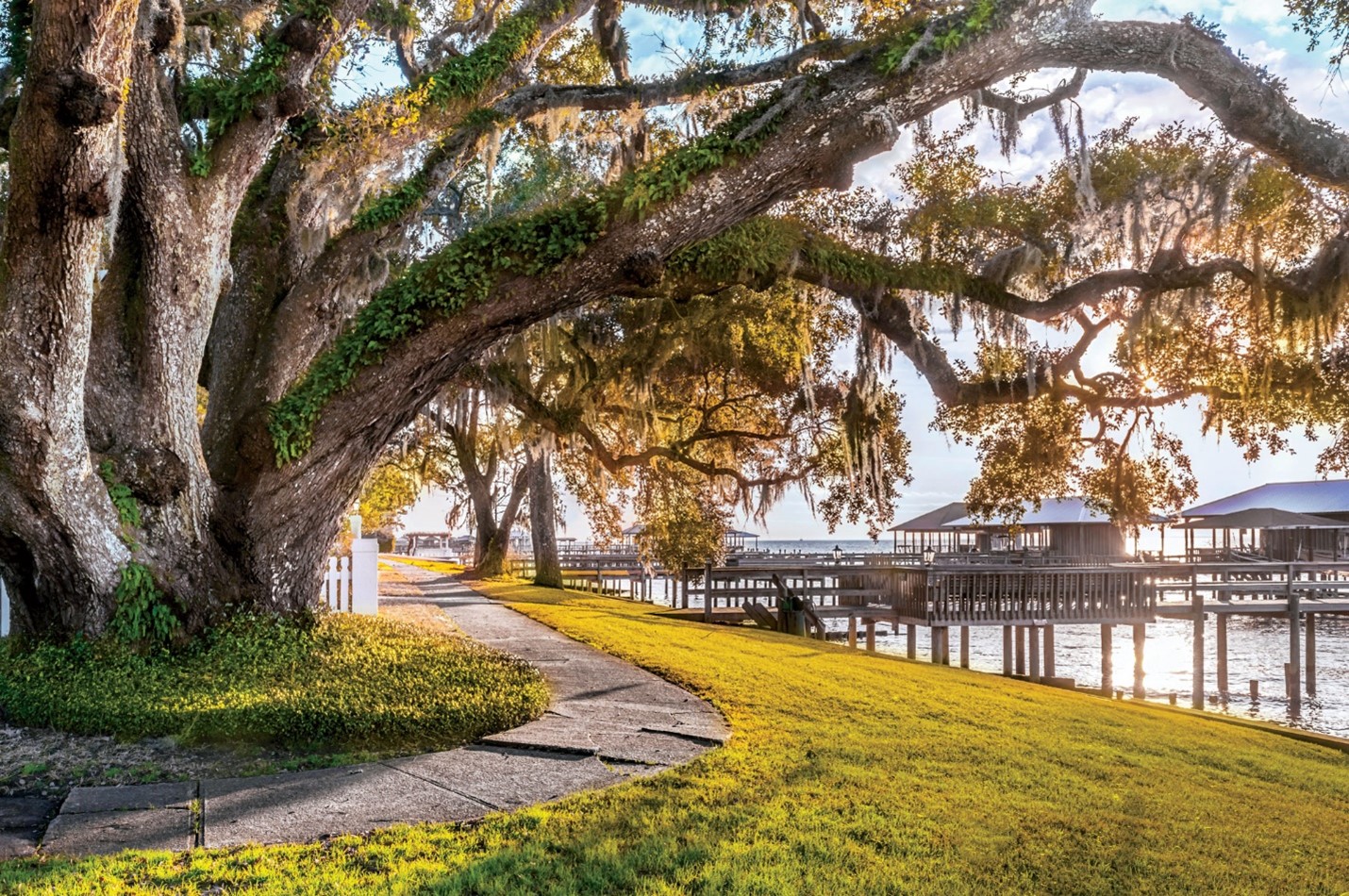 Here is the beautiful Alabama Eastern Shore Trail, which is located in Fairhope. This is the perfect place to watch the sunset.
3. Hope Hull (Alabama Safari Park)
This park is located just South of Montgomery, but it is most certainly worth the drive. This safari allows you to drive through their park in your car and feed their animals that are on the reserve. This experience will have you and your family laughing the whole time as these animals try to entice you to give them the animal food that your purchased at the front gate. The park also gives you a pamphlet so that you can learn about each type of animal that calls the safari home. After you have driven your way around the park, you can venture over to the giraffe, bird, kangaroo, and petting zoo area with all kinds of unique animals, where your kids will be able to get even more experiences with some of the animals. With the park being so close to Montgomery, you can always travel up there for a bite to eat before it's time to head back home. You will always remember these kinds of fun memories with your kids, so this is a daytrip that you most certainly should not pass up.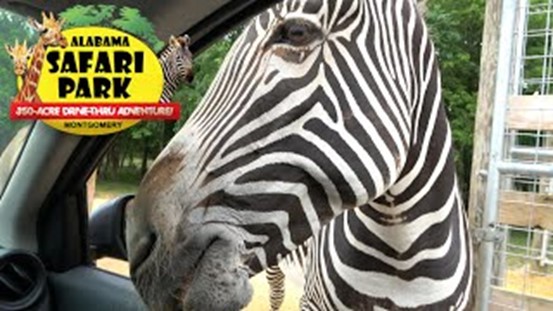 Here is an example of one of the animals you will see and be able to feed on your Alabama Safari!
4. 30A
Home of the movie The Truman Show, 30A is a series of small beach towns where the beaches and everything surrounding them are luxurious! One of the most popular things to do in 30A is rent bikes and ride around the towns to admire the architecture and the community of people. There are quaint local shops and restaurants that have some of the best food around. There are several farmer's markets around that you can attend to get local and foods and art, so be sure to research when they will be open during the time you decide to visit. Eden Gardens, which is only 3 miles north of Seaside, Florida in 30A, is the perfect state park to explore in this are if you are wanting to get away from the beach but still enjoy nature. While there is plenty to do in 30A, you may want to consider bringing a little extra cash with you, as this area tends to be on the pricier side of places to vacation at.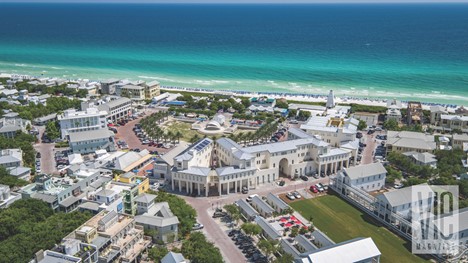 This is a photo of Seaside, FL, which is just one of the small towns located on 30A.
5. Marianna
Located in Marianna, Florida is the Florida Caverns State Park. Visitors can purchase tickets for $10.75 for adults and $5 for kids between the ages of 3 and 12. With this ticket, visitors can go on a guided tour through the caverns and explore. This unexpensive experience will be a memory you and your family will never forget. After you have completed the tour, there are several other recreational areas and parks that are must-do's for nature lovers. Three of them are Bellamy Bridge Trail, Hinson Conservation and Recreation Area, and Blue Springs Recreational Park. You can also go back in time and learn more about America's history at the Marianna Civil War Battlefield. Marianna is an affordable day trip option for families who love to explore out in nature and are looking to save a few bucks while still having fun.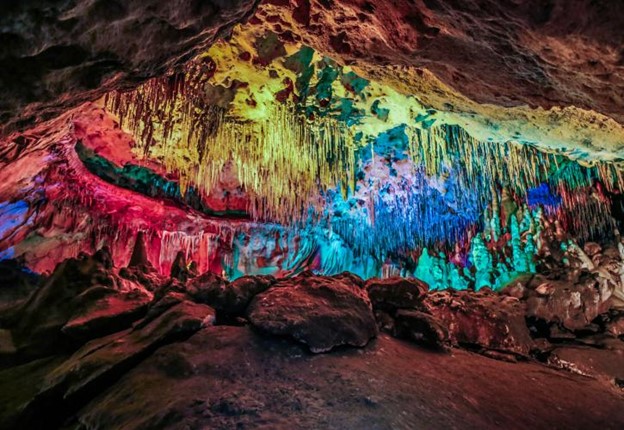 Here is a photo of the beautiful caverns that you will encounter on your tour at the state park.
These five locations are easily accessible from all of our Gulf Winds branches. If you are located in one of our main cities, consider going to visit these cities if you are looking to save money and do a day trip for a summer vacation or even a summer staycation!